Here at Filmocracy, short films are our forte. We've seen dozens of films from all kinds of genres. Some good and others not so good. We want to highlight the hardwork and effort done by these independent artists with our list of fantastic short films.
Horror movies are a dime a dozen, with so many types of genres and subgenres woven into this large category of movies and short films. We will be looking at 10 terrifying short films that will have you second guessing weather you should fall asleep alone tonight. Terrifying as defined in the dictionary is "the cause of extreme fear", And although fear is a subjective feeling we can bet that any of these films will have you looking away. So sit back and relax and prepare yourself for THE TOP 10 TERRIFYING FILMS UNDER 10 MINUTES -ish.
"La Ricetta" or "The Recipe" is an Italian short film directed by Jason Noto. This extreme film is not for the faint of heart. If you are squeamish or can't handle the gore then I'd skip this one, but for you brave ones out there you are in for a ride. Plot is simple, A mother showing her young son how to cook a specific recipe. It all goes south once we see what the young boy sees. Clocking in just about 5 minutes, this short film doesn't hold back in the brutality and horror's during the process of cooking. If you thought watching how the sausage is made was a bit too much, wait until you watch, "La Ricetta". From director Aman Bhanot, comes this grim animated short revolving around a young girl Anabella as she tries to deal with her own tragic past and the killer who's contracted to kill her. This film deals with alot of serious subject matter revolving, mental health, post trauma and abuse. The film escalates as we follow anabella fighting her biggest fight yet. This film feels like a love letter to directors like Guerellmo Del Toro's brutal dark grimm fantasy style.
This short revolves around an angry mob as they march to an abandoned post outside of their town to confront something that can possibly threaten the lives of their people. The short is very effective with the way everything was executed. With director Aritz Moreno relying on the film to look like it was done in one single continuous take and a creeping soundtrack to complement the visuals. This film will have you on the edge of your seat. By the end this short, it will leave you scratching and itching from how uncomfortable you feel.
Disclaimer the link to this film is perfectly safe. For some reason our computers were telling us that the website is not safe, but after a closer look everything is okay and you guys have nothing to worry about. From the crazy and twisted mind of Johnathan Glazier from Under the Skin fame, comes his recent work in the form of a 6 minute short film. The Fall takes place in an alternate/dystopian past or future where we follow a group of creepy masked men and women who are trying to capture a masked man. The film has great production value and leaves the viewer uncomfortable from beginning to end. The short is simple and straight to the point, but the impression it leaves once it's over is full of questions, fear and a hunger for more. This short film is one that can't be missed.
This classic short has made its waves around the internet scaring audiences with its nightmare fuel simplicity. Execution is everything and this film hits the nail on the head. If there was ever a quick and easy way to visually show the essence of terrifying, this film is that. After watching this you might want to double check who you are sharing your bed with. Bedfellows is a classic that needs to be watched. Watch if you dare.
According to director Kate Dolan this short film is based on a true story. If it's true then this film has become a new degree of terrifying. Following a man who drives around his town looking for a little fun from a significant other this film is definitely not for everyone and not safe for work. If you are the right age for this short film then you definitely will be satisfied. After watching this short maybe you will think twice about late night drives and inappropriate interactions with strangers. You never know who you might be talking to.
Director Guzmits Zoltán Dániel's unique horror short messes with our perception of reality. With one of the most unique ways we've seen mirrors being handled in film this short will have you clinging to your chair from beginning to end. For my fellow filmmakers out there you know how annoying dealing with mirrors are and this film found a way to make even a trip to the bathroom terrifying.Watch this at your own risk.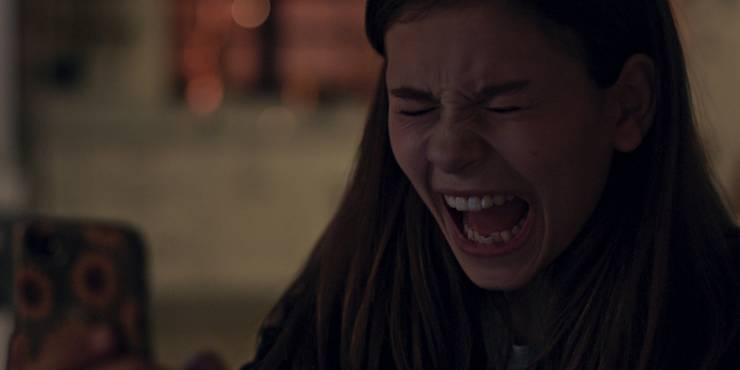 With the Tik Tok and Snap chat filter fad taking over the internet, this short film takes a fun and time consuming app that is completely harmless and makes it into a terrifying and unimaginably horrific possibility that can happen to any of us. Is it a glitch or is there something way more sadistic going on. After watching this you might want to give using fun filters a second thought when you're bored in your room. Who knows you might not be alone.
Based on the two sentence short story "Tuck Me In" on reddit. This short film expands on the story to make a terrifying tale from the lens of a young girl. We can all relate to this story as sometimes our imagination does get the better of us when we are the most vulnerable, in our bed. The pay off will leave you hiding under your bed in fear. "I Heard it Too" is a short film that will have you second guessing if you are truly not alone at home.
Third eye is probably our most recent film in our list. For such a short run time it did leave a big impression and had us shaking in our boots. Made during the stay at home order this short film truly shows the creativity and imagination that some filmmakers have in their craft. With the right execution anything can be made and Third Eye will truly have you terrified and thinking what your neighbors might be up to during this stay at home pandemic.
So that's it, 10 short terrifying films in just under 10 minutes. If you enjoyed this please subscribe and follow our social media.
Let us know if you want more and we will make sure to deliver.
If you have a short film yourself that you want to upload, visit filmocracy.com, the hub for short independent films. Join our community. Join the Film Family. Also if you have any short films you would like to recommend please let us know in the comment section below.
That's it for now. Hope these horror short films don't mess you up too much. Good Luck.